Autumn 2023 has started, and looking back at this past summer we see that Europe has been under the grip of a relentless heatwave, with temperatures soaring above 45°C in places like Greece, eastern Spain, Sardinia, and Sicily. But what's behind this extreme weather, and is this going to be the new normal?
This summer's intense heat isn't just a random occurrence. Scientists have found that the likelihood of such heatwaves has increased dramatically due to human-caused climate change. To be precise, Europe's July 2023 heatwaves were made a staggering 950 times more likely because of our impact on the climate, according to the World Weather Attribution group.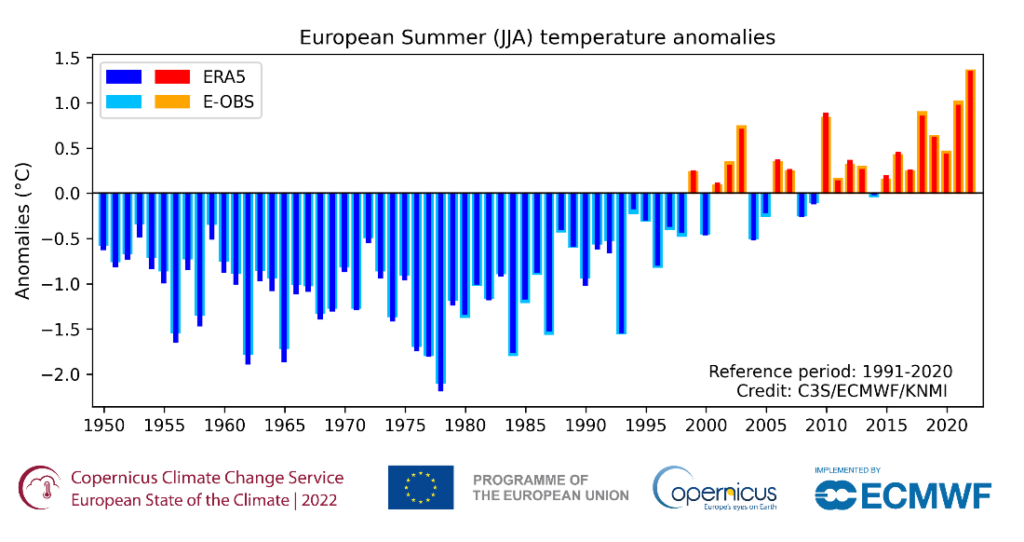 "Observations are telling us unequivocally that the climate system has been warming, and extremes are clustering together and becoming more frequent than they were before. […] If we want to mitigate the risk associated with these heatwaves, then we need to get to net zero as soon as possible."

Dr Carlo Buontempo, director of the Copernicus Climate Change Service in an interview for euronews.
Such extreme temperatures aren't just uncomfortable; they're dangerous. It was estimated that in 2022 there were 60000 heat-related casualties in Europe. Heatwaves exacerbate wildfires, with Spain, Greece, Italy and Portugal severely affected this summer. Such extreme weather events also threaten food security, as prolonged heat and drought conditions severely affect crop yields.
Is this what expects us in the future? Should we better start adapting? Dr. Carlo Buontempo, director of the EU's Copernicus Climate Change Service, suggests that if we're effective in mitigating climate change, we might revert to a climate closer to what we know today. However, if we continue on our current trajectory, the extreme weather we're experiencing now might become the norm. A study indicates that if global temperatures rise to 2°C above pre-industrial levels, we can expect such heatwaves every 2-5 years.
The message then is clear: we need urgent action. This means we have to immediately implement all efforts to reduce and remove greenhouse gases emissions. Summer 2023 is a wake-up call for everyone across the civil society. If we stick to the currently in place climate policies, we are well on track for a rise of at least 2.4°C by the end of the century. The time is NOW to bring technology and innovation into action and start reverting climate change, working collectively towards a sustainable future.
October update: September 2023 was the warmest September on record globally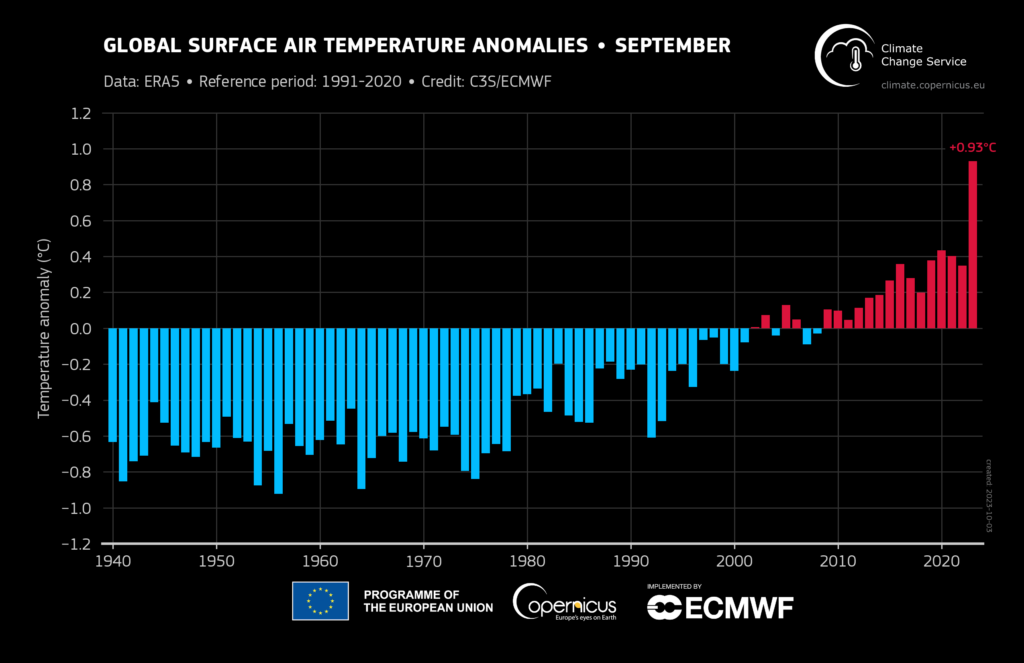 September 2023 global temperature was the most anomalous warm month of any year in the ERA5 dataset (back to 1940). 

As stated in the SEPTEMBER CLIMATE BULLETINS of the Copernicus Climate Change Service.
Cover image information: from the European Centre for Medium-Range Weather Forecasts (ECMWF) open charts. Source: European heatwave July 2023 | ECMWF.